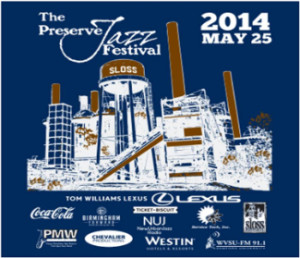 The Preserve Jazz Festival will not be taking place in 2015 according to an email sent out late Wednesday evening, January 21. There had been no date set for the 2015 edition as of yet. It had just relocated in 2014 from the great lawn at The Preserve in Hoover to Sloss Furnaces. It was also the first year without co-founder Eric Essix, who started a new event, Eric Essix's Jazz Escape, in September 2014.
Jason Henderson, co-founder of the eight-year-old event, included the following statement:
Dear PFJ Fans

After a great deal of thought, I have decided to take a sabbatical this year from producing the festival.

Thank you for your loyal support over the last 8 years and we may consider a return in 2016 with a rebranded/new jazz concept.

Sincerely,
Jason
Performances at the festival had included ones featuring Essix, Johnathan Butler, Chad Fisher Group, the Larry Mitchell Trio, and Gerald Albright.