The only good thing you can say about all the rain we've been having is that at least it's not snow. (We wouldn't thaw out 'til June!) It has not been pleasant waking up every morning to another gloomy, moist day. Thanks to the rain invading every square inch of Birmingham, my husband and I have had a constant trail of teeny ants in the house, mailbox and both our cars searching for someplace to dry off. We've even been visited TWICE now by a 6 inch lizard who must be sneaking in under the doorframe looking for a warm hideyhole.
I feel for these little critters, even as I dislike their presence. I'm beginning to need a place to dry off too, at least mentally. I need a place to hide out on these gloomy weekend days, where I can feel protected against the elements. Quiet is a bonus, and while being free isn't a prerequisite, it certainly is nice. I think I've finally found a place that fits all my requirements: the reading room at the Emmet O'Neal Public Library in Mountain Brook.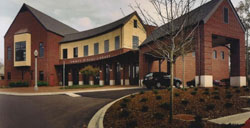 For no cost at all, I can snuggle into a chair with any book or magazine that takes my fancy, and bask in the light coming in from the huge, vaguely Art Deco windows. (Naturally, it's way nicer when that's afternoon sunlight streaming in instead of lead-colored clouds, but these days I'll take what I can get.)
The key, I've found, is to pick sunny reading material. So far, I've enjoyed a P.G. Wodehouse comedy, a gorgeously photographed book on Middle Eastern cooking, and a handful of guidebooks to Italy. Even if it doesn't stop the rain, at least it banishes it to a distant memory for a while, and reminds me there are sunnier days ahead.
Photo: Emmet O'Neal Library. Courtesy of their website.