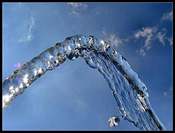 Welcome to summer in Alabama. That means a heaping helping of heat, topped with a thick slab of humidity. If you're lucky, you'll feel a breeze. If you're really lucky, that breeze will not be oven temperature.
When your air conditioner won't crank up any higher—and when the neighbors finally turn off the sprinkler you've been running through—it's time to find some cool escapes in the city. Follow the jump to check out a few favorites:
If I say "Gilchrist Drug," some of you will instantly respond, "Limeade!" The little sandwich counter (the drugstore part went away a while back) in Mountain Brook Village serves up old-fashioned favorites that are hard to find these days—egg salad sandwiches and such. But the limeade has become one of their claims to fame, and it's no wonder. Each glass is sweet, tart, freshly squeezed, and best of all, served cold. It's a cool and classic drink for summer.
Birmingham is lucky to be the home of several independent ice-cream shops, which means you can find hundreds of flavors and endless combination of frozen concoctions, from shakes and sundaes to splits. Ice cream is no longer the only game in town, either. Several places around town now serve the softer, smoother Italian treat of gelato, or you can find frozen yogurt and fruit sorbets and sherbets. Some cool spots are Mountain Brook Creamery and its sister shop, Edgewood Creamery in Homewood, plus Wright Dairy on Highway 280, where the milk for the ice cream comes from Alabama cows.
The Alabama Theatre used to have a sign on its marquee that proclaimed "It's Cool Inside." It's true, both literally and figuratively. Chill out with their summer movie series, which kicks off this weekend with Gone With the Wind and Snow White and the Seven Dwarfs. The theatre shows films through August, ranging from classics and musicals to animation and recent favorites. Seeing old films is a new experience at the Alabama—plus there's all that magnificent architecture in the auditorium to entertain you beforehand. Visit the site for showtimes, ticket prices, and other details.
Got any cool spots to add to the list?
Photo: Water Jet. Clearly Ambiguous/Flickr.