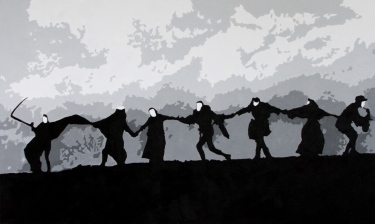 Tonight's opening reception for John Fields's Diegesis marks the first show for Fields in three years, and his second at beta pictoris gallery in the city's Second Avenue district. It is one of two shows opening that evening; the second, Chasing the Ghost, features work by Stephen Bindernagel.
Fields's show is a group of original works based on film stills. He selected scenes from a number of motion pictures, printed and painted the images, then imposed a mask of his own face onto the protagonists. Each of the films depicted has been influential to Fields, who has a background in both art and filmmaking. The titles of each work come from the movie's dialogue – sometimes verbatim, sometimes more of a paraphrase or how Fields remembers the line being spoken.
Fields says his art is informed more by pop culture rather than fine art. He works from instinct, often finding themes after a finishing a series. He has previously used the idea of the mask in his art, but Diegesis is the first time the face on the mask was his own.
Imposing his own image onto the film scenes was inspired by his 30th birthday party. When Fields entered the room, the guests were each wearing printed masks of his face.
He develops his exhibitions through a process of elimination rather than with a specific goal in mind. Sometimes, he says, it is "more about what it's not about," but he tends towards universal themes. Fields allows the view to their own interpretations instead of  leading the viewer with a heavy explanation.
In addition to scenes from films such as The Deer Hunter, Manhattan, Last Tango in Paris, and Godzilla, Fields pays homage to Andy Warhol in a video recreation of the iconic pop artist eating a hamburger.
John Fields: Diegesis will run from June 21-July 26, 2013 at beta pictoris gallery (2411 2nd Ave. N.). Opening reception: Friday, June 21, 6-9 p.m.
Photo above: Love is the blackest of all plagues. Acrylic on canvas, 24″ x 40″. Courtesy of the artist.