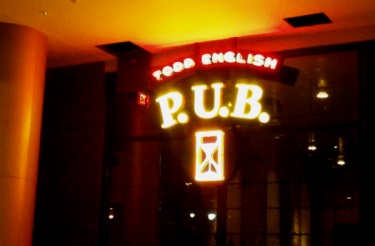 Traffic driving by the new Westin Birmingham nearing completion next to Southeastern Conference headquarters in downtown Birmingham noticed a new addition to the city's collection of neon signs on Monday.
The sign over the entrance to Todd English P.U.B. (short for Public Urban Bar) now lights a portion of the base of the anchor to the city's newest entertainment district, Uptown. Workers were inside the space last night making sure it'll be ready for when the hotel is scheduled to open – February 14.
UpTown's Twitter account and the BJCC's Facebook account have announced a way for you to score access to an invite-only preview of the restaurant on February 12. Considering the only way to try the food before then is a trip to the other location is in Las Vegas (it opened in March 2010), it sounds like a pretty interesting contest to enter.
Now you've got to wonder if the seven-second beer slam mentioned in the Twitter profile for the Las Vegas location will apply here too…