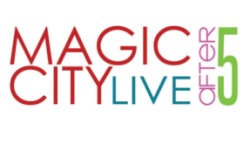 Magic City Live After 5 is one of the newest after hours events in downtown Birmingham, with its inaugural event quite successful (even in triple-digit heat). Tuesday its organizers learned that they'll be able to extend the series into the beginning of September.
An item (#15) originally on the consent agenda for the July 17 meeting of the Birmingham City Council, the summer mixer series will be able to add a September 6 date to their schedule. After next week's July 26 installment, currently being billed as a pre-party for those planning to attend the Nicki Minaj concert at Boutwell Auditorium and a fundraiser for Susan G. Komen for the Cure®, they will skip a week and then be held weekly through August.
Organizers of the after-hours networking event has also created its own brand page on Facebook in addition to continuing to maintain a Twitter account.