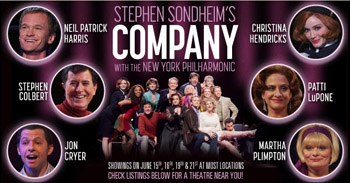 Those who watched the Tony Awards on June 12 saw a performance (quite similar to parts of this trailer) from the New York Philharmonic's production of Stephen Sondheim's Company. Fans of the theater realize just how impressive this revival of the play is – including such star power as Neil Patrick Harris, Stephen Colbert, Christina Hendricks and Jon Cryer – though more folks are probably talking about @ActuallyNPH's closing rap at the Tonys (and for those interested, here are the lyrics).
Most of us here in Birmingham probably didn't get the chance to fly up to The Big Apple in April to see any of the sold-out performances done as part of the Philharmonic's spring gala. But it turns out we didn't have to.
Folks wanting to see the revival can head to the Carmike Summit 16 and the Rave Motion Pictures at Lee Branch June 15 (tomorrow), 16, 19 or 21 and catch a screening of the adaptation (and some air conditioning too). You've got other options available to you here in Alabama (and all over the country) and they're all included in this list of participating theaters.