The Heartless Bastards have indeed been climbing towards the mountaintop recently. Their new album, The Mountain
, debuted last week.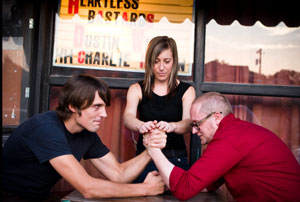 The Cincinnati, OH-based garage rock band made their debut on Letterman earlier this week (Tuesday actually) and now they're getting ready to take the stage at The Bottletree this evening in a show that includes performances by Nashville's The Deep Vibration. Tickets are $10 and it starts at 8 p.m. I'd say that they're staying pretty busy indeed.
If you missed their performance of Out at Sea, check it out; If you've been wondering about if you wanted to go… take a listen to the title track:
[audio:http://www.fatpossum.com/media_kits/heartlessbastards/mp3s/HBTheMountain.mp3]