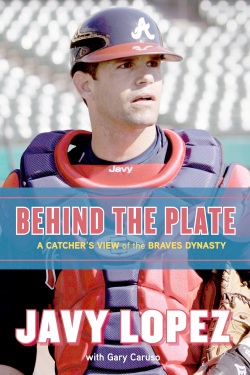 Javy López looks forward to spending a couple of days in Birmingham this week, and not just because being back in town reminds him of the old days when he and the Greenville Braves were beating the Barons.
"We always did good against them, but there are a lot of Braves fans in Birmingham, no doubt," the three-time All-Star catcher said, anticipating a visit to Regions Park to throw out the first pitch when the Barons host the Pensacola Blue Wahoos at 7:05 p.m. Thursday.
The last time he played Birmingham was 1992, which he remembers as a very good year. "We were sick of winning that season," he said with a laugh by phone from his home in Suwanee, Ga.
"We finished 106-42, won the (Southern League) championship, and then I got called up to the big leagues and went straight to the World Series."
López has detailed his meteoric rise from the minors in his new book, Behind the Plate: A Catcher's View of Braves Dynasty. He'll greet fans and sign copies at Books-A-Million in Brookwood Village at 7 p.m. Wednesday, June 6. The autobiography, compiled from interviews he did with sports journalist and Braves historian Gary Caruso, was published in April by Triumph Books.
"The book is for my family, fans, and friends who have constantly been asking me to write it," López said. "Even my kids pushed me to do this. Fans who wonder what it takes to get to the big leagues and what occurs behind the scenes can find out, and my family can read it and learn a lot of things about me they didn't know. There are things in the book that I've never talked about before."
Not, he added, that a reader has to be a baseball or Atlanta Braves fan to appreciate López' story, which begins with how he learned to play baseball on a neighborhood basketball court in Puerto Rico and continues through a difficult language barrier and other struggles on his way to the major league record of 42 home runs in a season by a catcher. It also includes being named MVP of the 1996 National League Championship Series, playing on 11 of the Braves' 14 straight division-winning teams, and how, after spending two seasons with the Orioles and Red Sox, he dealt with a failed comeback attempt with Atlanta four years ago.
"The book can teach anybody what it takes to get what they're looking for in life," he said. "It was hard for me to make it. I had to go through a lot of barriers and overcome a lot. It wasn't easy to get to my goal, but what helped me get to it can help someone else get to theirs, whether they're a baseball or Braves fan or not."
López remains associated with the Braves organization and still has vivid memories of his first season on the roster. "When I got called up, (Atlanta) was already on fire. The Braves had gone from worst to first the season before, and everybody was pumped up. That's what I came into as we were going into the World Series. Some guys play their whole careers and never make it to the playoffs. To go straight from the minors to the World Series was an amazing experience."
So was catching Kent Mercker's no-hitter against the Dodgers in 1994.
López wasn't having a good day at the plate. Midway through the game, he was 0-4 and had struck out three times. "I was so furious because I was struggling offensively that I didn't pay attention to what Kent was doing. It wasn't until the seventh inning that I realized, 'Wait a second. We've got something going on here.'
He had one more at bat, a fly ball for an easy out. "I didn't even care any more. All I wanted at that point was to get that no-hitter done."
López has filled his memoir with such stories and said that readers expecting accounts of contention and scandal are likely to be disappointed. "For some reason, people find controversy interesting, but this book is just good old baseball stories."