A few things for those in town for Birmingham's many festivities this weekend: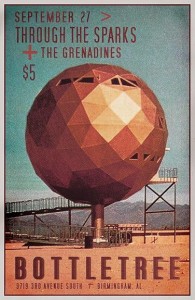 Two of Birmingham's best local bands will be playing an unofficial "after" after-party at
Bottletree
just as
Sidewalk
is letting out and the
WordCamp
crew is looking for some trouble to get into on Saturday night. Do yourself a favor and check out both of these bands' respective pages (
here
and
here
) before the show.
Also, for those who helped me usher in the arrival of Birmingham's newest radio station Live 100.5 FM, here's an aside: I HEARD INTERPOL ON THE DRIVE INTO WORK TODAY! Kudos to Davi Rossi and the fine programming he put in order today!
 Through the Sparks flyer art by Shawn Avery.