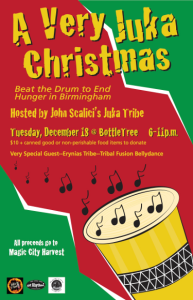 Tis the season when Birmingham shows how generous its citizens can be. One of the most philanthropic cities in the country throughout the year, the holidays may be the city's most giving season. On Tuesday, there's another opportunity to help others less fortunate than ourselves: A Very Juka Christmas – Beat the Drum to End Hunger in Birmingham.
John Scalici's Juka Tribe and the tribal belly dance group Erynias Tribe will perform at Bottletree on December 18 to benefit Magic City Harvest. Admission is $10 at the door plus a non-perishable food item. Tickets can also be purchased via The Bottletree's website.
A Very Juka Christmas will be an evening of both music and community drumming, with a full-blown community drum jam to wrap up the night. Guests are welcome to bring their own percussion instruments, and drums will be available for those without.
According to their website, Juka Tribe's sound can be summed up as World Boogie – a "mosaic of Middle Eastern, Brazilian, and West African rhythms." In addition to Scalici, Cody McIain, poet Sharif Simmons, and bassist Jay Johnson have joined the Tribe. Performances often feature both live and sampled music.
Magic City Harvest was founded 17 years ago as a response to the hunger and homelessness issues in Birmingham. Its mission is to alleviate hunger, malnutrition, and food waste. The group distributes food, educates the public on the affect of poverty, and participates in collaborative efforts to combat hunger in the city. Magic City Harvest distributes 50,000 pounds of food annually to those in need.
Do some good. Have some fun. And get your groove on this holiday at A Very Juka Christmas.