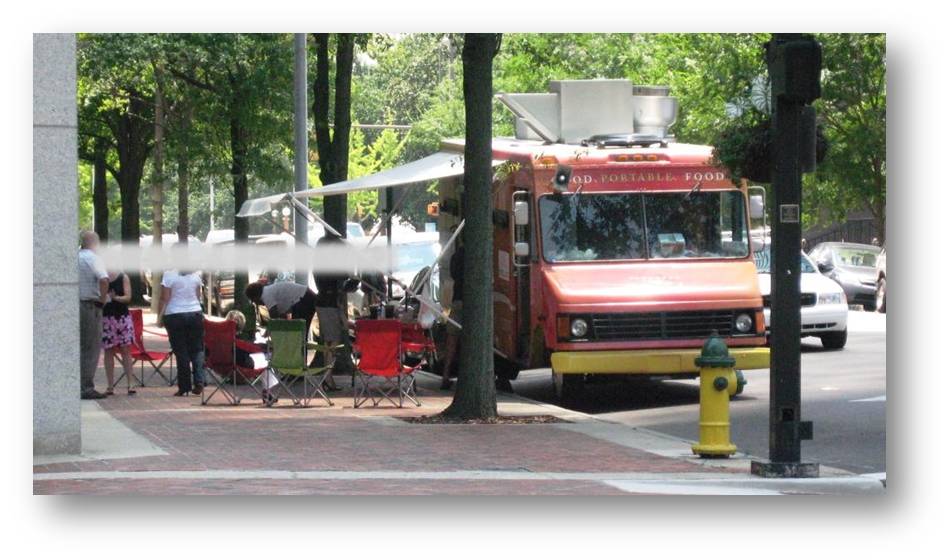 This year's Birmingham Magazine Best of Bham readers poll allowed participants to vote for the Best Food Truck. An online petition launched last week to show support for area food trucks has continues to grow; the new target is 1,500 signatures with more than 1,160 already collected. If there's any doubt in your mind right now, get over of it:
Food trucks are here to stay; the question is how they'll be handled.
The recent issue of food truck regulations has found me looking around online for the past few days to see if we're alone on this issue. The findings – not even close to being alone. Food truck regulation is apparently a big issue in several cities right now. This week for example, Portland, ME and Chicago, IL will attempt to pass new ordinances aimed at making both sides agreeable, with neither side necessarily declaring victory so far.
A couple of things took place last week providing insight into how crazy the food truck issue is in several cities right now. It should help those involved come up with a good solution for all.
The first event happened on July 9 as Chick-Fil-A rolled out their new food truck at Farragut Square in Washington, DC. According to a post on "All We Can Eat," The Washington Post's food blog, the truck had been planned for some time (it was supposed to debut in April and was seen in May and June around town) and underwent a design change before its apparently successful relaunch on the streets of the Nation's Capitol. Incidentally, one of the reasons cited by Chick-Fil-A for introducing the truck in the piece is their lack of physical locations in metro DC (one actually – on a college campus). The ability to gauge interest in eventually opening brick and mortar establishments was what the head of DC's Small Business Administration pointed out in a recent interview.
By the way, DC Mayor Vincent Gray introduced a new ordinance in January that would among other things allow food trucks to stay parked in one spot instead of needing to be "hailed" like a cab in order to conduct business. It would also dictate the hours they would be allowed to operate in the District.
Thursday, July 12, saw a the spotlight focused on food trucks… in Chicago. Our friends at Gapers Block were one of several media outlets writing about the first ever Chicago Food Truck Day. The event was organized in advance of the upcoming July 19 hearing involving that city's new food truck ordinance that would among other things finally allow operators to cook on board. The Chicago Tribune reports they'd also have to install GPS devices to allow the city to track them, making it easier to enforce a two-hour parking limit at any one location while being able to operate 24 hours a day.
Chicago's municipal legislation has been stalled out for at least a year according to most reports and it's not come without its share of debate, including an interactive debate presentation over on The Huffington Post. It should calm folks looking at Birmingham's current situation and the discussions surrounding a rewrite of local laws to accommodate the growing industry that others are tackling it as well.
Specifying distances is not necessarily new – Chicago is asking for a 200 ft. distance from the front door of brick and mortar restaurants; incidentally, Portland, Maine's asking them to be 65 feet away after hours while actually being more restrictive during the day in their proposed ordinance (scheduled for a vote later on today – Monday, July 16).
There have also been some successes so far. Boston (as usual) has found a way to make it hip and cool, even creating a page on their website letting people know which trucks are out and where they're located as well as a streamlined page for applying for the requisite permits. This while they've instituted a lottery system as part of their process. The folks in Memphis are talking about how successful their ordinance (PDF) has been – becoming a lucrative opportunity for several operators shortly after its passage last spring.
Hey, at least we're not in Clearwater, FL, where they have no intention of adapting their ordinances to accommodate food trucks any time soon. Those willing to talk about the negative long term effects may want to look at what problems developed in Raleigh, NC some ten months after their battle over their food truck ordinance (PDF) – none.
Time will tell what happens here. There appears to be folks willing to work together and a community that's willing to support whatever decision is reached. With several cities going through the same situation right now, hopefully it will calm folks down while also giving everyone an idea of what's working and what's not.