It's been a topic on my mind for several weeks now, especially while I was out of town.
I'd actually known about the existence of the CVB's new "IN" Birmingham campaign for some time and thought that it was a really cool concept. The idea of getting people to be proud of their community and what they have in their community is paramount to bringing an area back based on personal experiences. Apparently, I'm not alone in having those thoughts.
While I am aware that some may not necessarily agree with that last statement, I'll see if you'll agree that other things always stands out. Personality and individuality. Both of those things are extremely important as it lets you know. I grew up in a town where the mayor has always been a personality that embodies the city. While living in Savannah I can tell you that the stories found in Midnight in the Garden of Good and Evil were not nearly as good as the ones I got to hear from the individuals that made the city and my experience what it was.
We have many of those kinds of individuals and stories tucked away here in Birmingham. Some are already recognized both regionally and nationally for what they've contributed. There are many however that have not had a spotlight focused on them, or at least not one bright enough for more people to know about them and there are many of us that are not aware of anyone from either set.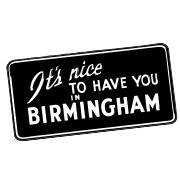 So we're going to look to an old slogan for the city for some inspiration for a new series of submissions about The Magic City. The 1961 "It's Nice to Have You in Birmingham" campaign is one that still rings in the ears of residents in the region both young and old. We'd like for you to take a new look at that statement – to really think about who you like to see every day in Birmingham and why. We're hoping that it will help us develop a mosaic of careers, backgrounds, personalities and missions that best exemplify the best thing about Birmingham – its people.
I'm asking you to let us know who you're happy to see in Birmingham – hopefully by writing a piece for publication on this site. Think of it as NPR's "This I Believe" series only Birmingham-centric! We'll even record you reading your submission or perhaps do a quick audio interview with the person that you nominate to be featured. We want to make this into a continuing campaign on The Terminal, for the people are the city.
Let's show them just who they are.
If you're interested in submitting a nomination/entry to this series, please send in your comments to info@bhamterminal.com. If you really want to be one of the first ones, send in your responses by close of business next Friday, February 29. You can also reach us using any of the methods listed on our contact page.