I got into a conversation about an area of downtown known as "the cut" yesterday with someone very familiar with it. It runs down the middle of 1st Avenue South between 20th and 24th Streets South and is considered an important piece of the continuation of the soon to open Railroad Park – providing a pedestrian connection to Sloss Furnaces.
I'd recently walked across the 21st Street Viaduct, looked down and noticed a great deal of garbage and debris inside of it. It disturbed me because I'd taken part in one of several clean-ups of the stretch of land while I was a resident of the Birmingham's Central City neighborhood.
I suggested to the individual that it was probably time to organize another clean up the space again, perhaps engaging a new group of concerned individuals in the process while they suggested that perhaps a phone call to the city to do so would be better while finding another way to get citizens involved, like a charrette.
When I asked why, he said that it would most likely be the same group of folks who always came out that would do the clean up again since it probably wouldn't attract any new people.
I've got a feeling that people visiting Railroad Park in September who've still haven't heard of it as of yet (and live in metro Birmingham) could be motivated to clean up a piece of property for the first time if invited.
Perhaps we've become so accustomed to seeing the usual suspects all of the time that we don't always think of new ways to reach out to more people and engage them as well (maybe even using some of the same things that don't work on the usual suspects anymore).
Maybe it's because it appears to some that others are always looking for something to complain about or they immediately have a negative reaction to any idea that is presented to them – for no really good reason. If you hang around a lot of people like that long enough, it tends to rub off on you too…
I write those last statements knowing that the majority of the voices that we normally hear online are those of a small minority made vocal due to the majority not necessarily wanting to share their opinions.
It would be nice to hear more of those optimistic and positive voices across more of the platforms that we use for communication here in Birmingham, AL. There are some people that need to hear from others like them; from imagining what this portion of Jones Valley can be in a few short years. Luckily, there are a few of them online (and offline – that you will run into every once in a while.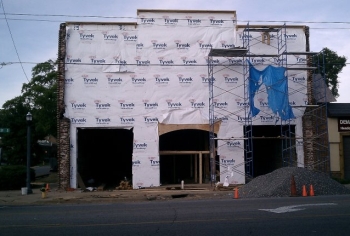 I headed over to the future site of the Avondale Brewing Company on the city's east side today. I went over to check out the progress on their building – one that I've looked at optimistically for years in my former life at Main Street Birmingham. It was great to see the progress…
I was also over there scouting out a potential location for the office/collaborative space that I've talked about before on these virtual pages (BTW – the survey results and other news regarding that project will be posted on Monday morning – along with a few other minor changes to the site in general).
As I parked I noticed that the space that I was heading over to stare into again was in fact open, leading to one of those weighted moments where you're thinking "I know there are other places there but…" That feeling went away when I figured out that the person leasing the space was a long time champion for the neighborhood.
His plans for the space reminded me of the hope that I used to hear from merchants and residents in parts of this city that many of the folks in the know actually don't know. One of the great things about my former job was the level of passion that you could feed off of after a conversation with a property owner who'd been there for 50+ years or a new business that wanted to be where they were because they truly believed in the city's future. It's something I'm beginning to find again as the site begins to churn out content again.
Getting back in a positive frame of mind is one way to combat the "we'll never do better" attitude. As more things come online those here in Birmingham, AL will learn to once again accentuate the positive (and eliminate the negative).
André Natta is the stationmaster for bhamterminal.com.
Photos:
Birmingham Railroad Cut – East End. Curtis Palmer/Flickr
Avondale Brewing Company under construction. Courtesy of their fan page on Facebook.