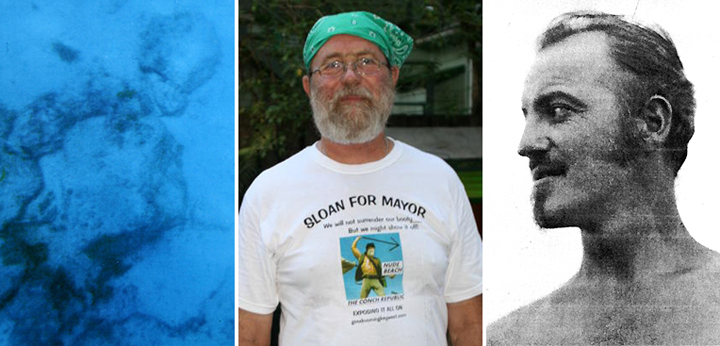 While engaged in expanding Bhamwiki the last several days, I've had a rash of encounters with some of the wilder forms of speculation. The aim of Bhamwiki is to put forth the facts about any given subject, with the hope that doing so will give readers the means for drawing their own conclusions. What I'm itching to share here, in the form of a commentary, are the "facts" about the speculations themselves.
First, a tame example: Last October Patti Muldowney and her husband John, of Rapho Township, Pennsylvania voyaged on Royal Carribbean's "Adventure of the Seas". At their first port of call, they went on a snorkeling trip to a shipwreck. While her husband stayed on the launch, Patti snapped photos of the wreck and marine life with a disposable underwater camera.
In December, their friend Evette Dimm was flipping through the album, and that's when pareidolia struck. She saw a human figure with a skull-like head half-buried in sand. The Muldowneys both had a "gut feeling" that they were looking at Mountain Brook High School graduate, Natalee Holloway , whose absence has become one of Aruba's leading commercial exports since May 30, 2005. Early that morning Holloway was lured away from Carlos 'N Charlie's Cantina in Oranjestad by a 17-year-old boy for a long walk on the beach. She subsequently missed her flight home and hasn't been seen since. Over the years several tourists have reported finding skeletal remains in and near Aruba. Most have been identified as shipwrecked sailors.
After showing an enlargement to other friends, their family doctor, and local police, the Muldowneys sent the photograph to the Philadelphia FBI office. When they didn't hear back from the FBI, even after numerous calls to Quantico, the Muldowneys contacted the media — namely The Lancaster Intelligencer-Journal. Other outlets, including The Birmingham News and local television stations, quickly picked up on the "story", and now Aruban authorities are sending divers to investigate.
About 1,100 miles northwest of Oranjestad lie the Florida Keys, the community that declares "We Seceded Where Others Failed" on their Conch Republic flag. In a trailer on a wooded one-acre lot adjoining a wildlife refuge on Little Torch Key lives a man whose unfortunate duty it is to reveal skeletons. This sunburned poet and pilgrim, a servant of his "board of directors" (Jesus, Michael, Melchizedek and the Holy Spirit), is spiritually obligated to speculate about another missing Mountain Brook resident: his brother, Major Bashinsky .
Sloan Young Bashinsky, Jr was already speculating that blackmail may have led Major to fake his death when a body was found in the pond which encircles the 10th green of the Highland Park Golf Course. After the Jefferson County Coronor confirmed that it was Major's body, that line continued to be impressed upon Sloan in dreams. Perhaps shame and fear of exposure led his brother commit suicide and make it look like murder? Was Major the anonymous author of the threatening letters distributed on behalf of Golden Flake 's "loyal workers"? Nothing could surprise Sloan, who was appointed by his grandfather in a dream as the "collector and keeper of the family skeletons". Under the glare of media attention on Major's mysterious death, Sloan has been dragging one or another of those skeletons out of the closet, primarily on his long running "Good Morning Florida Keys " weblog. Whether his spiritual duties come from above or from inside, Sloan Jr is miles ahead of the facts of the case.
My third example involves another restless pilgrim who was miles ahead of his contemporaries, Birmingham-born aviator, explorer and inventor Donald Croom Beatty (1900–1980). Before he was 30, Beatty had already crashed a self-built airplane in Tarrant, sunk a self-built submarine in Edgewood Lake, trained at Harvard to build radio equipment for the US Navy, traveled across Asia in a tramp steamer building wireless stations for United Fruit, become a charter member of Alabama's first Air National Guard unit, taught his girlfriend to fly and broadcast her piano-playing on Alabama's first licensed radio station, received the first of dozens of patents, been nominated for a Distinguished Flying Cross, and recruited business leaders in Birmingham and New Orleans for a pioneering trade delegation to South America. That ambition seemed to die with the stock market crash of 1929, but Beatty was undaunted.
He and his wife and baby daughter moved to New York where he began courting J. P. Morgan to discuss an expedition into the Amazon basin. After he finally got an appointment, he left the meeting with a check for $25,000 and commissioned a seaplane, the "Simon Bolivar", to carry him, his wife, a playboy nephew of Morgan's, and a navigator to Peru. There the party joined the Smithsonian's chief ethnologist and other scientists and technicians for a land-based foray into jungles controlled by the head-shrinking Jivaro tribe. They collected photographs, motion-picture recordings, artifacts and live specimens on the months-long journey across the continent (including a jaguar cub that ended up at the Birmingham Zoo). Their tales could fill a pulp novel. The trip was a success and led to Beatty's employment as an aerial surveyor and pilot for Pan American-Grace Airways (Panagra), continuing his bold adventures while mapping trans-Andean routes for the young commercial airline.
After returning to the United States as a federal aviation inspector, Beatty was hired to organize a civilian-manned airborne ferrying system prior to World War II. The end of the war found him bouncing between North Carolina and Bermuda as he oversaw the delivery of Convair planes and the training of their crews for service in the Royal Air Force. After the war he joined the Platt-LePage Aircraft Company where he helped develop and test the Air Force's first helicopter. In 1949 he invented the telephone answering machine. Two years later, Birmingham's Hayes Aircraft Corporation made him their first employee and put him in charge of developing electronic signaling equipment. The most important of his many patented circuits and devices from that time was dubbed "GAALT " ("gain-adjusting audio level terminator"), a kind of noise-reduction circuit that improved signal quality in challenging environments, such as between satellites and land-based receivers or across Alabama Power Company's high-tension lines.
GAALT industries, a company that manufactures devices based on Beatty's innovation, now makes some rather odd claims on its website about the Beatty family's long history of involvement in communications infrastructure. Those claims have inspired conspiracy theorists to connect Beatty to a wide-ranging menagerie of shadowy figures and to speculate wildly about the "real" uses of the GAALT device.
These speculations certainly are entertaining, but they don't help me much as a recorder of dry, encyclopedic facts. The Muldowneys, Bashinskys and Beattys have made it an interesting week, and I'm grateful that "The Terminal", Birmingham's hub, has given me an opportunity to disgorge some of the wild stuff that's been swirling in my head. I hope you enjoyed reading about it.
John Morse is the creator of Bhamwiki. He originally contributed to our site's A Look Back series.
NOTE: This post originally appeared on our front page on March 21, 2010.