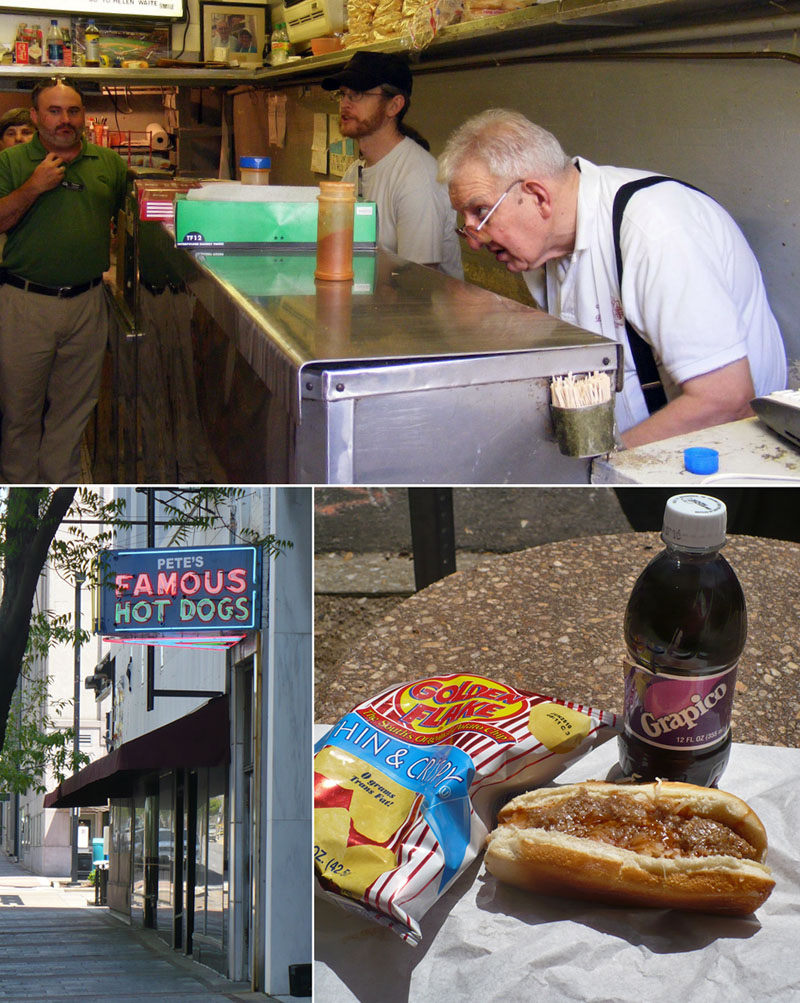 Ask a sampling of Birminghamians about the city's signature cuisine and you're likely to hear about slow-cooked barbecue or pimento cheese sandwiches, maybe Greek-style broiled snapper, fried green tomatoes, or orange rolls. Perhaps even the grilled lamb shoulder and crushed potatoes from Highlands Bar & Grill. As a student of Birmingham's history, however, I'm casting my vote for the traditional Birmingham hot dog.
Since debuting as hand-sized fair food on Coney Island a year before Birmingham was founded, Wiener Würstchen on soft buns have become a staple of the working man's diet. And once Birmingham got going as a boom town in the 1880s, there was growing demand for quick, cheap, standing-up meals. Among the entrepreneurs scampering to establish the city's food service industry were the first generation of Greek immigrants from Tsitália, a small village in Arcadia, southwest of Athens.
Enterprising mustachioed men like George Cassimus (Fish Lunch House), Tom Bonduris (The Bright Star), and Tom Balabanos (Hobson Cafe) opened restaurants while their countrymen peddled fruit from carts and cigar stores and built up mercantile warehouses on Morris Avenue. They brought their cousins and neighbors and soon Birmingham's Greek community was a vibrant force in our economy and culture.
In 1939 Pete Koutroulakis, bought "Louis' Place", a lunch counter tucked into a 7-foot-wide slot between the former Dude Saloon and the Loventhal clothing store. It cost him $600 that he had won in a pinochle game. He changed the name to "Pete's Famous Hot Dogs" and installed the now-familiar blue neon sign. Soon he hired his nephew Constantine (nicknamed "Gus") to help out. When Pete took ill after a vacation, Gus took over.
That was on January 18, 1948. That was before the city's first television broadcast. Teenage phenom Willie Mays was just about to take the Black Barons to the Negro Leagues World Series. City Hall was still at 4th Avenue North and 19th Street.Paul Bryant was the young head football coach for the Kentucky Wildcats. Bobby Bowden was enjoying his senior year as big man on campus at Woodlawn High School. And an infant Larry Langford would soon be keeping the neighbors awake at Loveman Village.
Allow me to repeat. Gus Koutroulakis has been serving hot dogs right there almost every day since that January morning. His narrow doorway has framed his view of forty-five per cent of our city's entire history. Today I darkened that door long enough to purchase two specials all the way, a sack of Golden Flake potato chips, and a 12-ounce bottle of Grapico: my idea of Birmingham's signature meal.
At the center of that meal is the traditional Birmingham hot dog: a griddle-cooked wiener served on a slightly-warmed bun topped with Greek-seasoned meat sauce, sauerkraut, onions and mustard. Variations on the same sandwich can be procured at any of dozens of hot dog stands around town. Among the most venerable are Gus's Hot Dogs, Lyric Hot Dogs, Dino's Hot Dogs and Scott's Koneys. The Sneaky Pete's chain has its roots in the same traditions. While one or another may have a sweeter sauce, crisper onions or different cooking habits, the essence is the same.
Koutroulakis gets his wieners from Zeigler Meats, a company started by R. L. Zeigler out of the grocery store he opened inBessemer in 1920. Zeigler's pork sausage became the store's top seller and gradually eclipsed the rest of his business. Now the company ships sausage, souse, bacon and hot dogs all across the United States (well, the souse might not be so widely available). The company has changed hands a few times and was once partly owned by Coach Bryant, who famously answered "mama's call" to come to the University of Alabama in 1958.
You might not think of sauerkraut as a Birmingham product, but soul legend Frederick Knight did. Knight was producing and recording for Neal Hemphill's "Sound of Birmingham" studios in Midfield in the late 1960s. One of the demos he cut for Atlanta's Lowery Music Company was a track extolling the virtues of Birmingham sauerkraut: "I'm goin' back to Birmingham. I'm gonna be on the next train out. How I miss potatoes, greens and beans; but most of all the sauerkraut!"
The ideal complement to a Pete's Famous special is a pack of Golden Flake golden potato chips. Like Zeigler, Golden Flake started out as a side business for a grocery store. Mose Lischkoff and Frank Mosher's "Magic City Foods" fried up the chips and also made peanut-butter crackers and horseradish for Hill's Grocery in the 1920s. Their golden-haired spokesmodel, Helen Friedman, later married Mosher and bought out Lischkoff's share. After their divorce, Helen took over the company. She was grossing $750,000 per year in sales when she finally sold it in 1946. The buyers were Leo Bashinskyand his brother-in-law Cyrus Case who wisely utilized Bear Bryant's star power in the company's marketing efforts. The Bashinsky family took the company public in 1968 and expanded rapidly to over $100 million in sales by the mid 1980s.
And to wash down the quintessential Birmingham meal? You can't go wrong with a bottle of Grapico. Although Grapico was invented in New Orleans, the first wholesale bottler for the grape-flavored soda was R. R. Rochell, a member of Birmingham's huge variety of dope dealers ("dope" being the local colloquialism for bottled soft drinks). When Grapico's founders lost their rights to the trademark in a dispute with the Federal Trade Commission, Rochell took over production and distribution across the South. The Grapico Company of America had offices on 11th Avenue North and pursued national distribution for their sodas before being acquired by local rival Buffalo Rock in 1981.
For more on Birmingham's hot dog culture, I recommend viewing "Hot-Dogopolis", a short documentary film produced by the Southern Foodways Alliance (an organization founded in Birmingham in 1999). But for the real thing, make sure to hurry down to the hot dog time machine on 2nd Avenue and get Pete's Famous special all-the-way.
Photos: Top: Gus Koutroulakis at Pete's Famous Hot Dogs, photographed by André Natta. bottom left: The store's neon sign. bottom right: a special all-the-way with Golden Flake chips and a Grapico, both photographed by John Morse.