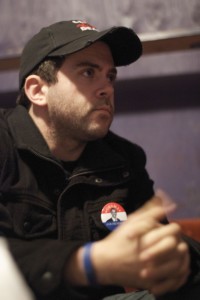 So, I was lucky enough to meet an adolescent obsession of mine this past week: Chris Ward IV, better known as mc chris. Known for his high-pitched voice and recurring characters on Space Ghost, The Brak Show, Aqua Teen Hunger Force and Sealab 2021, he made a rare appearance in the Heart of Dixie on his headlining tour.
A surprisingly quiet guy, but who can blame him after a friend of mine commented that "maybe he's just tired of words after using 75,000 of them in every song"? We talked about his recent stint on the Warped Tour and his upcoming projects with Williams Street Productions (the folks responsible for bringing you some of your favorite programming on Cartoon Network). One of which is a feature film and another a cartoon series dedicated solely to mc chris imagery and the misadventures of his character.

All this goes to say that the NYU screenwriting grad and cartoon animator has now officially crossed over into a world where he has legions of hyperloyal fans and one of the best TV networks essentially under his thumb.
Check out his music, blog and updates on his insanely productive schedule on his website.