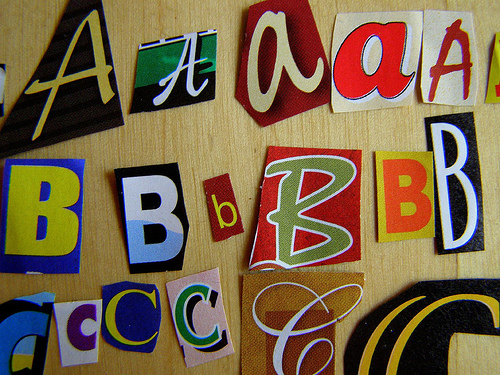 ABCs – Bethany L King/Flickr
Since I live with someone just learning the English language, I do a lot of ABCs and counting. So here is my 3-2-1 countdown for this weekend.
Three things I wish I could be doing … if I hadn't come back from vacation just to get sick. I'll be keeping my germs at home instead. You're welcome.
Art on the Rocks. Two down, two to go. Hosted at the Birmingham Museum of Art, this Friday's theme is "re-used material based on sculpture by Charlie Lucas." Music to be performed by singer-songwriter Lori McKenna. Your $20 ticket gets you food, music and art activities from 5-10 p.m. If you miss this one, your next and last chance this year to attend the popular event is Aug. 15.
Porsche 250. I really like Barber Motorsports Park and I really like watching cars drive fast around its pretty track. However, someone else in the family drew the straw to go, leaving me at home to watch the action on Speed TV. Pack a picnic and enjoy the view from the grassy hills. This event is all weekend and yes, McDreamy will be racing Sunday. Weekend passes are $55, day passes also for sale.
4th annual Member Day. This is not a bad deal. If you have a valid membership card for say the zoo, on Saturday you can use that card to get 2 adults and up to 4 children into the McWane Science Center for free and vice-versa. Here's the rest of the participating locations: Alabama Jazz Hall of Fame, Alabama Sports Hall of Fame, Arlington Antebellum Home & Gardens, Birmingham Museum of Art, Birmingham Botanical Gardens, Birmingham Civil Rights Institute, Sloss Furnaces, Southern Museum of Flight and Vulcan Park. (Of course I'll point out that the Gardens is always free and BCRI is free on Sundays.) In addition, these places are hosting special events and performances all day. For example, the Alabama Ballet will perform at the Birmingham Museum of Art at 2 p.m. If I get to feeling better, I may check out the jazz act 3:30 p.m. at Vulcan. For a complete schedule, head to activeculture.info and scroll down. I'd like to point out that the zoo and McWane will be rather busy. Stick to some of the other participants.
Two ways to have fun while helping others …
Southern Summer Night. Music, food, libations and a silent auction — the fundraiser for Hands on Birmingham has it all. The party starts at 7 Saturday night at Southern Progress. Tickets are $40 at the door.
Art From the Heart. If you missed the auction Saturday, head to B&A Warehouse Sunday. The live and silent auctions there will benefit Studio by the Tracks. Lots of art, and food and drinks too. Admission time is 5:30 p.m. for patrons ($100 tickets) and 6 p.m. for donors ($50 tickets).
One festival … because if you read this regularly, you know I love festivals.
Southside City Fest 2008. So, no, this festival is not in Southside. After a quick Google search, I learned that the city of Southside is actually near Gadsden. And yes, I would drive that far for a funnel cake and fireworks.
A bonus P.S. category …
One of my favorite movies of all-time is playing this weekend at the Alabama Theatre. Tickets are just $6 and it is by far one of the best places to watch film in town. Follow the link to see just what is one of my favorite movies of all-time and the rest of the summer's features. Sorry, but you've already missed "The Sound of Music."