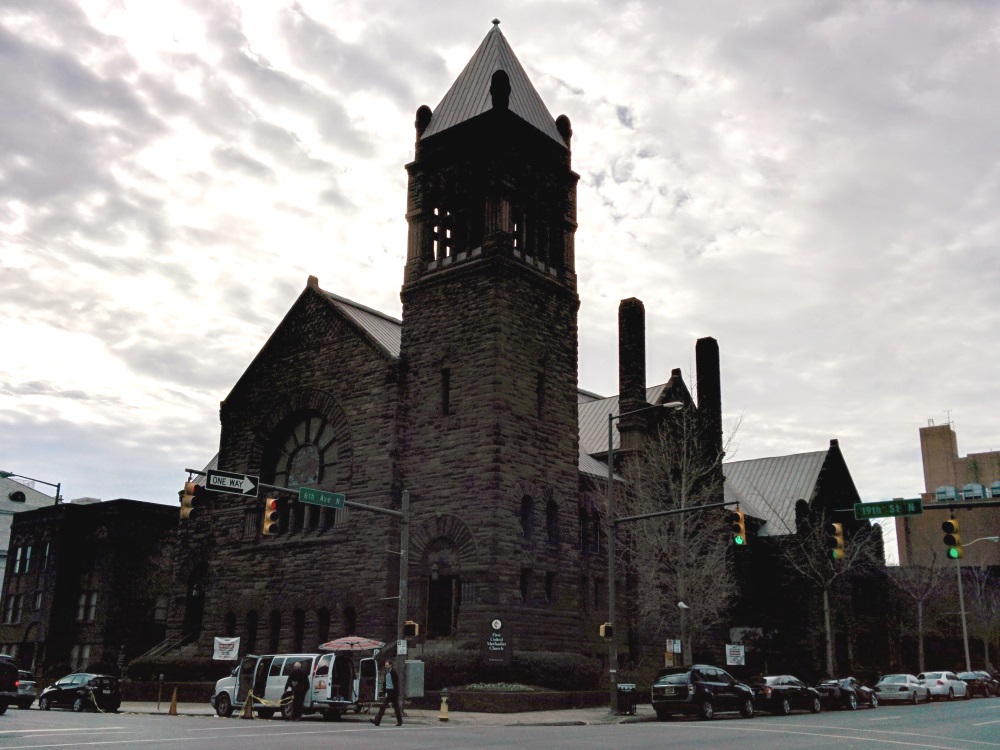 Unless one looked closely at the red doors along 19th Street at Sixth Avenue North in recent months and noticed signs posted, there was no way to know there was a transformation taking place inside. This Sunday, members of Birmingham's oldest United Methodist congregation will rededicate their 1892 sanctuary as the first phase of an estimated $1 million renovation effort.
First United Methodist Church will hold their service of re-dedication and restoration on Sunday, December 7 beginning at 11 a.m. to celebrate the occasion. It is the first major renovation project for its downtown campus since 1972. The work was completed by locally-based construction management firm Hoar Construction — the company's second major project involving a place of worship in the city's central business district in the last year — they have also been responsible for the $6.5 million restoration at the Cathedral of St. Paul.
The Richardsonian Romanesque Revival structure has seen walls and ceilings scraped and repaired along with new flooring and carpet runners throughout since work began this past summer. The color scheme used for repainting is more in keeping with the late Victorian period during which it was first constructed. (It was originally completed in 1892.) Additional work included the removal of drop ceilings throughout to expose the original tin; the refinishing of the sanctuary's pews. An update posted to the church's website (PDF, 6.8 MB) gives a glimpse of the detail work completed.
Additional work planned for the campus in the coming months includes an updating of their contemporary worship space as well as its HVAC, lighting, and plumbing systems.