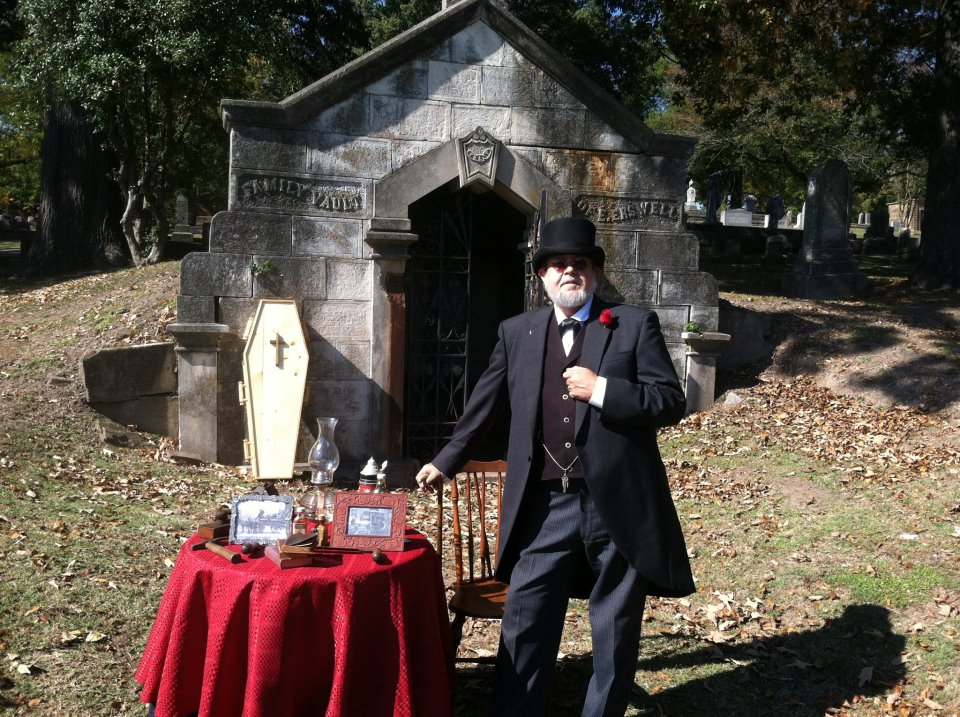 Downtown Birmingham's Oak Hill Cemetery will host their fourth annual fall history tour on Saturday, October 20. Tours leave every 20 minutes, from noon to 4:40 pm and last just under two hours.  Tickets are $8 and can be purchased or reserved at Ticket Leap.
This year's tour will be the largest yet, with visitors able to "meet" and hear the stories of some of the more famous – and infamous – residents of  the cemetery. Volunteers lead groups through the cemetery while relating tales from the early days of Birmingham. Oak Hill is the final resting place for many of the founders of Birmingham and was the first cemetery designated in the city, opening the same year the city was founded (1871). It contains the city's first pauper's cemetery, making it the final stop for many victims of the city's cholera epidemic.
The annual tour is more of a history lesson than a haunted tour. Visitors will find graves for veterans of every war from the American Revolution to Vietnam in addition to those of city founders. Two of the city's madams, the Wooster sisters Lou and Maggie, are also residents. Lou is considered the annual star of the tour and will again make an appearance as her sister Maggie leads tours.
Still a working cemetery, last year Civil Rights icon the Reverend Fred Shuttlesworth was laid to rest across from James Sloss. The cemetery association's director learned earlier this year that a Titanic survivor was buried at Oak Hill; Titanic survivors Phillip and Emma Mock will have their story told by Emma. Harriet Phillips will also be there to relate the plight of the city's African Americans.
This year's tour will again feature city stalwarts John Milner and Charles Linn, the Martin family, undertaker Edward Erswell, and James Sloss. Nannie Kirkley, the widow of one of the first police officers killed in the line of duty, will be on hand as will Emma Hawes, whose death was the cause of the famous "Hawes Riots," telling the story of her murder at the hands of her husband.
Proceeds from the tour benefit Oak Hill Cemetery's restoration fund. Many of the families buried in the cemetery no longer have descendants in Birmingham or do not have families willing to care for broken headstones and cracking mausoleums, which then become the cemetery's responsibility.
The Oak Hill Memorial Association raises funds to maintain the cemetery property as well as some of the grave markers. OHMA hosts events like the annual Fall History Tour, Shoot the (Harvest) Moon, Heritage Days, and the Zombie Walk to raise awareness and supplement the cemetery's already meager budget.
Rebecca Dobrinski has served as a tour guide since the inception of the Fall History Tour and this year will lead tours as Maggie Bracken, Lou Wooster's sister.
Photo: You may see undertaker Edward Erswell during this year's Fall History Tour at Oak Hill Cemetery. Special.