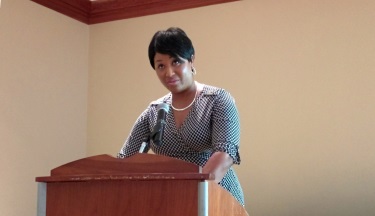 The names of the local recipients of the 2014 National Philanthropy Awards were announced at Vulcan Park on September 12 by the Alabama chapter of the Association of Fundraising Professionals. Eunice Elliott of Alabama's 13, herself a former executive for a nonprofit organization, emceed the event and will serve the same role on National Philanthropy Day (November 13) during a luncheon at The Harbert Center recognizing the honorees. They were nominated by those active in the city's philanthropic community.
The following is a list of the recipients Darlene Negrotto, president and CEO for Vulcan Park, described as "helping achieve the potential of the city."
Outstanding Youth in Philanthropy: Myrah Taylor
Outstanding Charitable Organization: The Woodlawn Foundation
The William S. Roth Outstanding Fundraising Executive: Tom Cosby
The Community Foundation of Greater Birmingham Outstanding Professional Advisor: Nancy Huges and Leah Scalise
Outstanding Corporate Citizen: The Buffalo Rock Company
The United Way of Central Alabama Outstanding Civic Leader Award: Nancy Goedecke
The Virginia B. and William M. Spencer Outstanding Philanthropist: The Brock Family
Tickets are already on sale for the November 13 luncheon through the organization's website. Through October 16, individual tickets will cost $45, with tables of eight available for $405 and Volunteer in Philanthropy tables of eight at $505. These prices will rise to $55, $495, and $555 respectively after that date and remain available through November 5 (with sponsorship opportunities also possible).