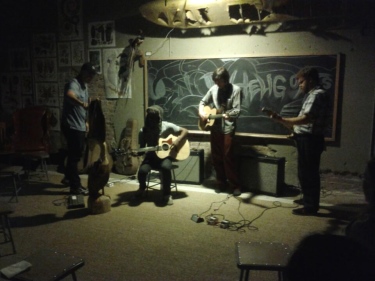 The first installment of the Desert Island Supply Company's "LIVE From Hammerhead" series saw a performance by The Heligoats. This photo shows a portion of the show where they invited a DISCO participant to join them while he played a song he'd composed.
The mini-concerts take place at DISCO's space on the ground floor of Woodrow Hall in Birmingham's Woodlawn neighborhood. There is no set ticket price – the idea is to pay what you like (or what you're able) while also getting a chance to learn more about the programs being offered by this nearly 3½ year old nonprofit.
This month the series continues with a performance by Birmingham-based act Velouria on Friday, May 24. It will also double as an album release party for the band's latest effort, Smile Until It Hurts. The band Early Americans will serve as their opening act.
NOTE: Doors open at 8 p.m. and beer and wine will be available for purchase.