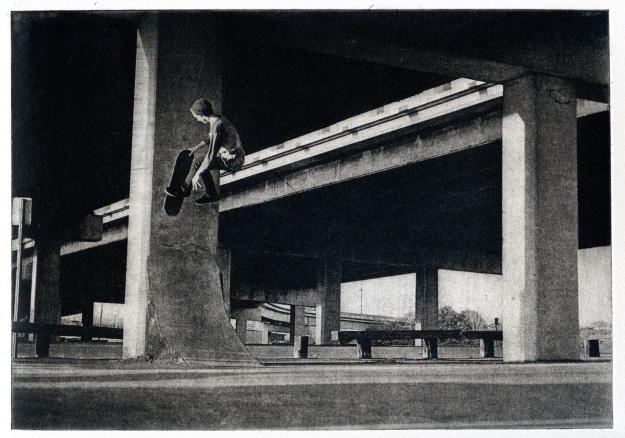 Local skateboarders gathered at the site they'd developed under Red Mountain Expressway at Second Avenue North in March, known locally and on social media as the DIY Bridgespot, and were told it was time to move. Actually, the Alabama Department of Transportation (ALDOT) insisted the skaters close down the site.
Why? One reason given was safety – something could come off a truck and fly off the expressway, fall through the 4-foot gap between the north and southbound lanes, and hurt someone. Another was the state agency not wanting anything under the overpasses. This reason confuses some as it appears to not apply everywhere in the city. For example, there is parking currently available under I-20/59 near the BJCC.
Thirty years ago a farmers market occupied the DIY site but shuttered in the 1980s, and it remained mostly unused until the skaters arrived last year.
ALDOT's spokesperson recently explained in an interview with AL.com that moving the skateboarders (and the homeless) out of the area was necessary due to soil testing for the I-20/59 bridge replacement project – one that includes, interchange modifications at I-65 and 31st Street and upgrades to 11th Avenue North.
The Bridgespot's short lifespan was not unusual; most DIY sites last no more than a year and a half. Skaters find a spot, start skating and making additions and improvements to a site, and the area evolves. One of the great things about the Bridgespot was the support the skaters received from their neighbors.
Peter Karvonen of Faith Skate Supply, located just two blocks west of the former DIY site, explained how the skaters had that support as well as the immediate community. Business owners and clientele would often stop by the store and donate money to support its development.
The Bridgespot gained some regional notoriety thanks to social media. Karvonen recalled meeting skaters from all over the state, as well as Nashville and Atlanta as they came to check out the site over the past several months..
The DIY site replaced another one, The Shoe Factory, located across from Railroad Park at 17th Street and 1st Ave. S. The owner of that property lived outside Birmingham and allowed local skaters to use it – with the caveat that it could be sold at any time. Once the city announces plans to move forward with Regions Field, the site was no more.
Skaters also lost a mini-skatepark located in Homewood's Central Park in 2008. Complaints began rolling in about the space soon after a nearby condo construction project had been completed.  As comments on the AL.com piece demonstrate, much of the general public's stereotyping of skateboarders as a bad influence likely had a lot to do with the complaints.
Supporters suggest a sanctioned skatepark project would continue to attract users from throughout the southeastern U.S. as the Bridgespot did as well as the residual economic impact of spending money at local businesses and contributing to the tax base. Patti Ferguson, a City Administrator in Armstrong, British Columbia, explained "It actually becomes a draw for your community if you have a good skatepark. Skaters want to come and try it. Never underestimate the power of a teenager to sway his or her parents' travel plans!"
Skateboarding's positive benefits
In Alabama, a state with one of the highest rates of obesity in the country, skateboarding is seen by some as a way to encourage activity in children and teens. Rather than sitting in the basement playing Tony Hawk's Pro Skater, they can go out and BE a skater. There are a variety of parks in Mississippi, Georgia, and Tennessee that could serve as examples for Birmingham.
When referring to a planned skatepark and splash pad, Heavener, (Oklahoma) City Manager Mike Kennerson explained, "Not only will these promote a healthy lifestyle, it improves the recreational life for our youth, and it has the potential to have an economic-development impact on our community. This is to create opportunities for kids to do positive things."
The Tony Hawk Foundation states skateboarding and skateparks "provide a place for kids who aren't attracted to traditional team sports to express themselves in an individual and athletic manner. Getting kids, particularly at-risk kids, involved in a personal and esteem-building activity like skateboarding helps them build the confidence to do well in other aspects of their lives."
And in Somerset, Ohio, Councilman David Snider concluded, "The whole skatepark experience has been a wonder to skaters and non-skaters alike. Senior citizens marvel at the athleticism and imaginations of the skaters, and skaters have a new respect for how a small-town village government can work if patience and fortitude are applied."
Five years ago, the city began looking at the potential of a skatepark on city land. Working with Karvonen and the skateboarding community, discussions began about locations and park designers. The Tony Hawk Foundation expressed its support of a Birmingham skatepark in the 2008 letter to Langford. Those plans seemed to have disappeared when Langford left office.
Hawk shared his thoughts on the impact on skaters and the community in that letter to Langford:
"And when parks are built right – with local skater input and involvement throughout the process – those youngsters develop a sense of ownership and pride. The very existence of the park is the result of their hard work. They negotiate with civic and local business leaders, with each other on design elements, and with the community to find a suitable location. These previously disenfranchised skaters, who once ran from the police, find themselves working with the police and the city and community as a whole. It's a transformational (sp) process for these young people."
A skatepark also provides opportunities for a wide variety of special events as well as clinics for teaching kids how to skate. A current effort could provide a home base for clinics held by the A.Skate Foundation. The foundation was created to teach skateboarding to autistic kids as well as teach skateboarders about autism. In 2011, A.Skate was a Pepsi Refresh Project grant recipient for a skatepark.
What's next?
So, what now? With no skatepark available in the immediate area, skateboarders are skating along sidewalks and on the streets or heading out to Battleground, an indoor skatepark and ministry near Bessemer. Unfortunately, Battleground is only open limited hours, with both free and pay to skate sessions.
Mark Leo, instructor at Jefferson State Community College, understands the need for a skatepark: " I've been skateboarding for about 25 years. I feel the local skate community needs a skatepark because, as I've grown older, I've realized how dangerous it really is to skate around the Birmingham metro area…the normal skateboarder encounters speeding cars and other hazards they normally wouldn't in a sanctioned area."
The City of Birmingham seems to be warming up to constructing a skatepark. There has been talk about using space at George Ward Park on Greensprings, as it would be easily accessible to visitors because of how close it is to an exit from I-65. As of press time, the idea of a skatepark in Birmingham is still in the preliminary planning stages.
The A.Skate Foundation, the skateboarding community, and Karvonen have been a part of the proposal and planning of a potential skatepark in Birmingham. Karvonen explained, "After ALDOT recently demolished the Bridgespot skate area, the city officials in Birmingham have responded to the desperate need for a skatepark and are proactively working with the skate community now to secure land for a skatepark within the park and rec system."
Karvonen said the skatepark was to be an agenda item at the April meeting for the Glen Iris Neighborhood Association, but was absent. They have been assured it will appear on the May meeting agenda. The neighborhood association meets on the first Monday of the month.
"Thankfully the city officials in Birmingham are embracing the need for a public skatepark and working alongside us to see the facility become a reality hopefully in the very near future," Karvonen added.
Supporters of the project know that it will not come cheaply; a quality skatepark can cost around $400,000. Quality is important. Concrete ramps provide stability and reduce maintenance costs as wood ramps are subject to rot and insects. Safety issues for both skaters and spectators also will need to be addressed.
Photo: courtesy of Faith Skate Supply.