A grungy plumber dressed in a jumpsuit casually walks into the Upside-down Plaza bar in 5 Points South, downtown Birmingham.  He gives a nod to a customer sitting at the bar as he passes by. A few minutes later the customer follows the plumber into the back bathroom. A tool box opens and guns are distributed. They both know what to do. An epic orchestral soundtrack starts. (Think "Batman: The Dark Knight"). Every aspect of the plan has been thought out as they bust open the office door where the winnings of the illegal gambling front are kept…
The director yells "CUT!" as the camera dollies out on the homemade track system made of PVC pipe and plywood.  Actors double as grips, lighting techs and cinematographers. Grip trucks consist of a fleet of old Honda Civics and Ford Rangers that also double as fast moving dollies and get road shots. Props and wardrobe are found by digging through the bins at the local thrift stores. Catering and craft services are provided by dollar stores and Big Lots usually consisting of a 5-pound bag of almost expired pretzels and Werther's candy in some very bendy paper bowls and questionable Mexican fruit drinks.
This is short film in Birmingham.
Local businesses like long time collaborator Upside-Down Plaza donate space and time and Starbucks and a few others donate to organizations like Birmingham's Sidewalk Film Festival Scramble. Shoestring budgets for individual team collaborations are sponsored by team leaders with sometimes insane drive and motivation for the art and story.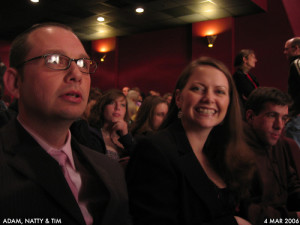 So, after a weekend of sleep deprivation, idea pitching, shooting, editing, soundtrack creation and method acting, the Sidewalk Scramble has finished out another successful 48 hours. The team leaders meet up at the local Highland Avenue are favorite Rojo for some great cuisine and networking Sunday night as they turn in their final 5 minute films before the 8 p.m. deadline. We all wait around to watch for and make fun of those stragglers that hysterically run up at 8:01 to make sure they make the deadline. (I can laugh because I've been a straggler before!)
So, if this area of the arts interest you, you can see all the films made this past weekend at the Scramble Screening at WorkPlay this Wednesday, March 18, at 7 p.m.
"Participants range from amatuers to professionals, so the results will be inspiring and spectacular! Following the screening, stay for the never-dull awards show and see who gets technical props, comedic kudos, and who gets to take home the giant trophy and cash prizes!"
Got questions about the Scramble? Call Natalie at 205.324.0888 or just drop her an email.
You can get tickets here or at the door.
Photo: Dystopos/Flickr