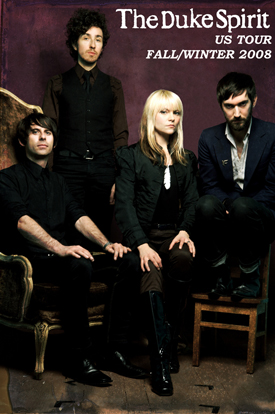 So while we'd like to be giving away tickets to this weekend's 2nd anniversary show at The Bottletree, we can't. But we can give away five (5) pairs of tickets to next weekend's The Duke Spirit show at The Bottletree instead!
For those not familiar with the UK-based band, they've opened for REM and are currently on tour with the Eagles of Metal Death – but they'll be headling on the 28th (Black Friday) with Eulogies and The Black Fortys opening for them at the popular music venue.
Special thanks to the folks at Shangri La Music for helping us out with this giveway. For a chance to win, use our trusty contest entry form below and then wait until Monday at 3 p.m., when we'll pick the winners.
BTW, in case you are not able to win one of the pairs here, we're not the only ones with free tickets to the show…
Good luck!
Photo: courtesy of Shangri La Music