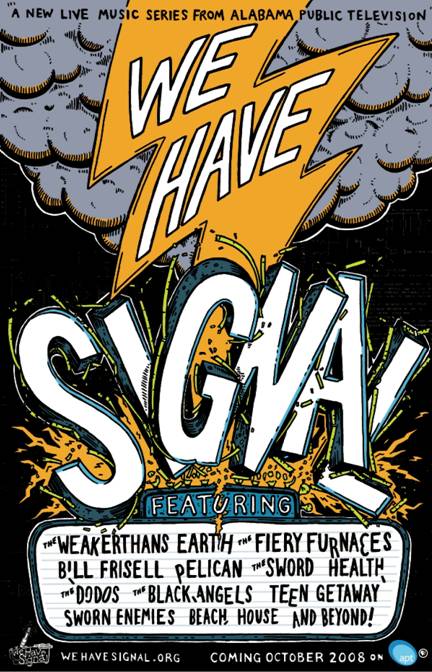 If you missed the October 2nd preview and inaugural episode of APT's new live music show We Have Signal, you're in luck. Tonight (10.16) is the first episode to feature never before seen recordings of bands who have played Bottletree.
The show airs two 30 minute segments back to back and so tonight's first band up will be Chicago melodic princes Pelican at 10 p.m. (which I highly recommend; I could listen to these guys and their seemingly endless number of guitars for hours) and later at 10:30, The Weakerthans (for fans of Ted Leo, Propagandhi and Jets to Brazil).
There are some things the APT crew want you guys to know (after the jump):
They've shot over 20 bands and have 4 or 5 ready for air.
Pending the artists' approval, they're hoping to make a "BEST OF" DVD/album showcasing their favorite 15 bands.
J. Whitson quips (and Terminal readers may agree) that is it "a lot more important to build an internet presence" in order to get those unfamiliar with the public television format interested. That's why they are working to build a bigger and better WeHaveSignal.org to support all their wildest Flash dreams.
A lot of bands think they are running some quirky public access operation. One look at the show or being at Bottletree during filming and you will learn differently.
So, set those DVRs or for those inclined, you can watch the Preview Special, along with the Dodos and Weakerthans episodes here on the APT website. Pssst…. there is a link to subscribe to the episodes via RSS feed as well! /geek out!
The schedule for the rest of October:
10.19
Pelican, 11 p.m.
10.23
The Fiery Furnaces, 10 p.m.
Pelican, 10:30 p.m.
10.27
The Fiery Furnaces, midnight
10.30
Beach House, 10 p.m.
The Fiery Furnaces, 10:30 p.m.
Special thanks to producers Matt and J. Whitson as well as photog Justin Gaar for being just as happy about talking about the show as we are about watching it!