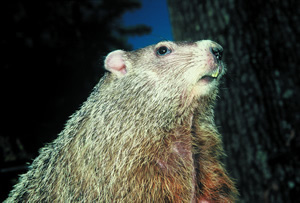 Here's the man, or groundhog, of the weekend himself. Special to The Terminal.
Sure there's a big-shot groundhog up north, but since when do we need a Yankee to tell us what the weather is like? I'll rather hear there is six more weeks of winter or not from our own Birmingham Bill.
Here's what is at stake: Shadow means hello spring. No shadow means six more weeks of 40 degrees one day, 65 degrees the next. Are you as tired of this yo-yo weather as I am?!! B'ham Bill will make his prediction at the Birmingham Zoo's Wildlife stage on Saturday morning at 10. You'll have to pay admission but the zoo will have coffee and doughnuts for folks.
The Birmingham Chinese Festival Association will be ringing in the Chinese New Year with a FREE festival Saturday at Boutwell Auditorium. The festival starts at 11 a.m. with a bang — traditional firecrackers and the BCFA Drum and Dragon teams leading celebrants into the auditorium. Once inside, you'll find great Chinese food, traditional children's games, and vendors selling arts and crafts, Olympic souvenirs and more. A variety show takes the stage at noon with a not-to-be-missed performance by a Chinese acrobat team at 1:45 p.m. The fun ends at 4 p.m. Boutwell Auditorium is located downtown at 1930 8th Ave. North.
Sunday is the big day for commercial fans. Oh, and some football will be played too, in between the entertainment. Having friends over to watch Super Bowl XLII and don't know what to serve? Here's some help from Martha.
Need a break from all the action? Check out the puppies! Animal Planet will be airing Puppy Bowl IV. Who knew putting cameras on puppies for hours would yield such addictive TV watching? It really is cute. It goes without saying that whether you watch at a friend's house or a local drinking establishment, it would be much nicer if you don't drink and drive. And one last thing … go Eli!