This edition of Got plans really should have a subtitle – what to do with all that family coming in town. With Christmas on a Tuesday this year, many people are starting their celebrations as soon as they get off work tonight. If it's your turn to host the out-of-towners, don't fear. There is more to do than look at the naked guy on the mountain.
Idea One: Holiday movies at the Alabama Theatre, located at 1811 Third Ave. North in downtown Birmingham. Friday night (7 p.m.) watch the cat fry in "National Lampoon's Christmas Vacation." Saturday afternoon (2 p.m.) see three holiday cartoon favorites — "A Charlie Brown Christmas," "Mickey's Christmas Carol," and "Santa Claus Is Comin' To Town." Saturday night (7 p.m.) dream of "snow, snow, snow" with Bing and Rosemary in "White Christmas." Tickets are $7 for adults/$6 for senior citizens and children under 12. Available at the box office one hour before showtime.
Idea Two: Send the football fans to Five Points South. Starting at 2 p.m. today, there will be music and PapaJohns.com Bowl-related fun in Southside. At 5:30 p.m., a parade will start at Powell Ave. and travel down to the Fountain for a Pep Rally. The actual game kicks off noon Saturday at Legion Field. I'm excited because it's my team in the game vs. Cincinnati. GO EAGLES!
Idea Three: Hit the museums. Trains and IMAX at McWane Science Center, Pompeii at the Birmingham Museum of Art, photographs and more at the Birmingham Civil Rights Institute — our museums have something for everyone in the family. Now all these places are closed Christmas Eve and Day. But Sunday, Sunday would be a good day to get folks out of the house.
Now I started my holiday weekend Thursday night at the Terminal holiday party at Bottletree…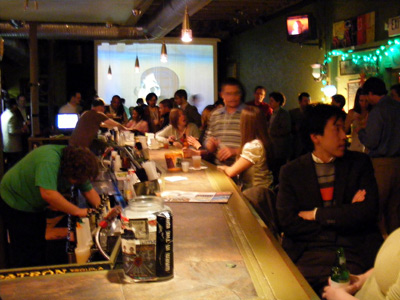 To everyone there and to all our readers, I wish you a Merry Christmas and a Happy New Year. And safe travels!