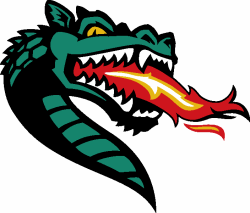 There have been protests, tweets and columns all written about the recent decision by the University of Alabama Board of Trustees' decision to not include discussion about a proposed football stadium for the UAB Blazers as part of the agenda for their upcoming meeting.
I've got a better idea – why not pack out Legion Field on Saturday night as the first step at showing the trustees that there is Blazer pride for more than basketball in Birmingham, AL? Incidentally, I'd be curious to know how many tickets are sold for Saturday's game compared to how many folks will be at Bartow this evening for the preseason opener against Florida Tech (starting at 8 PM CT)…
A crowd of more than 32,000 would be a much louder message than having 100+ fans protesting the trustees meeting. It would be one that locals would have to pay attention to as well – especially considering all of the attention being shown to the game of the century happening about an hour down the road Saturday evening between the Crimson Tide and the LSU Tigers (at the same time no less).
There will be 101,000 fans in Bryant-Denny and countless more milling about outside. Wouldn't it be nice to see the Old Gray Lady looking a little more like herself on Saturday, almost in a way defying the belief that the state of Alabama can't support three large crowds in one day. It'd also be interesting since all of UAB's top 10 attendance totals at Legion Field are before 2006. Granted, there hasn't been a winning season since 2004 (and they haven't finished higher than fourth in their Conference USA division since then either).
Those facts make it tough to not understand why the trustees didn't necessarily vote the Blazers' way. The largest crowd in Blazer football history – 44,669 – showed up primarily to see Ruben Studdard perform back in 2003, though the Blazers did put on a show, barely losing to Southern Miss by a score of 12-17. No doubt many of them wanted to try to score tickets to the Velvet Teddy Bear's concert the next night at the BJCC. The closest they came to that total again that season was for homecoming against Army, with a gathered crowd of 22,020.
Some folks would argue that the home field should be closer to UAB's campus. A quick drive down Graymont Avenue towards their current home reminds you of just how close it is to campus (though not as close as most supporters of the new stadium would want) and how powerful the experience could be if some folks felt like investing in redevelopment along the street – not just for UAB fans approaching from campus, area interstates and Highway 280, but also for those attending other sporting events like the Magic City Classic and the SWAC Championship among other things.
A UAB campus creeping ever so closer towards Birmingham's Entrepreneurial district would make it easier to do those types of projects and help accelerate many of the long held dreams for that part of the city, though probably not soon enough for those who want to see something happen as soon as possible.
That said, Legion Field has issues and they're more than enough to justify wanting a new home or a commitment of some sort towards a significant renovation – something not necessarily in the immediate future during these difficult economic times.
A new stadium would have humble beginnings if built, especially considering it'd be a little larger than Legion Field was when it was first constructed in 1926 (it originally held 21,000). Perhaps playing in cozier quarters would help gain some additional fan support. That would be something difficult to come by considering the large contingents of Alabama and Auburn fans in the metro area.
If success – on the field and in the box office – followed though it wouldn't stay cozy for long. That's one reason why suggestions to make changes to the proposed plan for a baseball-only stadium adjacent to Railroad Park accommodate the Blazers seem a little far-fetched. The Barons already play in the largest home field in the Southern League (10,800); any future expansion necessary to suit the needs of the Blazers would force them to be looking for a new home a lot faster. Considering the Barons would still be the primary tenant of such a facility (six month baseball season vs. 2½ month football season), I don't see that ending well for the Blazers long term either.
Which takes us back to Saturday…
It'd be a powerful message to the team and the trustees – and one that would do more to move forward efforts for a new home in the long term – if they saw a sea of green and gold at Legion Field on Saturday night. A crowd somewhere around 40,000 wouldn't hurt either. You'll still get to see a BCS team play too – and it may not be on television locally.
There's still time to trade in your tickets to the game of the century in Tuscaloosa for a ticket to Legion Field. I've got a feeling this one may also mean more in the future – for the team and the city – than the hotel rooms occupied for the showdown an hour south.
What do you think? Share your thoughts below…
André Natta is The Terminal's stationmaster.