NOTE: I wrote a response to a post shared on Facebook earlier today and felt the need to write this (exceedingly long) addition to/explanation for it.
I almost didn't go out at all on Friday night. The plan was to crash on the couch after a week of attempting to prove to my laptop who was boss — and losing. A night at home would help me regroup and be ready to play catch up over the weekend.
This meant I was choosing to skip the first Art on the Rocks! of 2015 (complete with preview access to the Hale Woodruff exhibit fresh off a visit to the Smithsonian); three chances to see Garth Brooks and Trisha Yearwood at the BJCC (or a musical); three Barons home games (though I did see the fireworks post-game on Friday from the porch); a screening of Monty Python and the Holy Grail at the Alabama Theatre; and buying a ticket for the first ever heavyweight title fight held in Alabama. That was just what was available in greater downtown (Beer on the Back Porch at Ruffner Mountain was pretty tempting as well on Friday).
Then, Mike Fourcher's face popped up on my phone:
"Hey, man,! I'm in Bham. Where should I go out?" His phone number followed.
Mike is one of the folks behind Aldertrack, a must-read for political junkies in Chicago, IL. He's also part of a group of peers I often forget are accessible as I continue to maneuver through the world of journalism, first meeting during the inaugural Block by Block Community News Summit in Chicago nearly five years ago.
I sent a message back saying he'd picked one of the craziest weekends to be visiting. Before I could get the next sentence started (stupid thumbs), he replied:
"I'm here for the Wilder-Molina fight."
Forty minutes later I find myself sitting on the patio in front of Carrigan's Pub with Mike and four others. There was a married couple from Texas, another woman, and a guy I later found out was from Queens.
I was asked what I did for a living. I told them about this site and then mentioned my new job working for the Southern Education Desk project. There was some interest in The Terminal, but most of their eyes looked intrigued by the work of the SED — then I found out what they all did for a living…
This is how I ended up having a conversation about the current and future state of Birmingham and issues involving education across the south with Eric Molina's wife (an A.P. History teacher) and two of their friends (both principals). The guy from Queens was Molina's attorney. There was no pomp, no fluff. Just a party of six enjoying great local beers (Good People and Cahaba, for the record) and great conversation.
I grew up in a city natives refer to as "the Greatest City in the World" and spent eleven years soaking up life in "the Hostess City of the South." This September will mark eleven years in Alabama's Magic City, though I often refer to it as "the City Built to Change the South." It has done just that on numerous occasions, for better and worse. While some of the episodes many would like to forget were mentioned during the 2+ hours on the patio, most of it was focused on the potential, the progress, and the lessons Birmingham still teaches today.
They enjoyed what they'd already seen and hoped to do things like the Civil Rights Institute as well, wanting to see the important places of history, but also the progress. They felt privileged to be here, excited for the opportunity.
We live in the youngest major city in the southeastern United States, but one with a legacy and road map continuing to influence communities much older, albeit not without some longing for it to live up to its original nickname. Time can often be a brutal and unfair thing as it must pass for things to move forward. The city and the region is still positioned to change the South while still being Southern, leading to conflict among those wishing that wasn't exactly the case.
There is a scarcity still faced by many in the community, leading some to question our priorities as we continue the process of remaking our city. There's a fight though — a willingness to change the script and forge ahead, to leading or find a way to do something better. It's still a scrappy community making big waves, and while many of us are the better for it, many more hope we continue to find ways to include more in the progress and the conversation.
Starting down the slippery slope of whether or not we're a destination city isn't necessarily where the conversation needs to currently live. Perhaps it's about whether or not we're worthy as a city to continue to dream and push forward so we have the attitude that accompanies being the destination actually shared by more than a few select people. Talking about our place in history should be accompanied with what we've done to build on it (& what still needs to be accomplished as we truly start to move forward).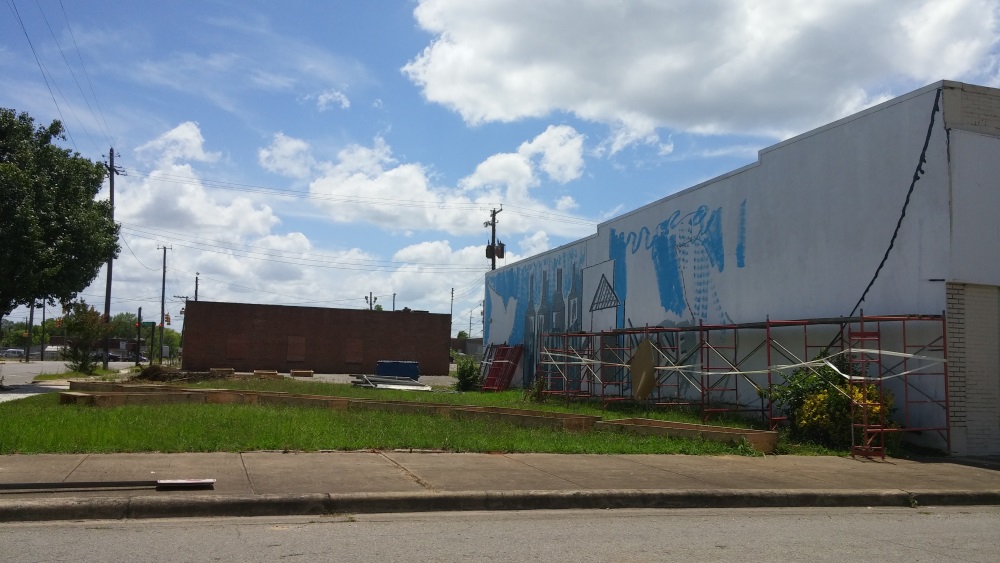 It's catching though, this positive attitude. This photo shows the property catty-corner of Cotton's in downtown Ensley. There's a community willing to dream big enough to think of respected artists designing murals for the wall of the Bethesda Life Center, the building of flower beds, and the belief a place is what you think it can be. It's everywhere you're willing to look for it — and tap into it. It may take a lot longer than you'd like, but it's there for the taking — and for feeding off of if you ever begin to worry.
The energy from the conversation on the porch reminds me just how much fun it can be around here — when you want it to be. Do some egos need to be checked at the door? Yes. Does a can-do attitude need to see the light of day in the hearts and actions of the community as a whole? Absolutely.
We've changed the South before. Perhaps feeding off the excitement and the potential while finding opportunities for all will help us do it one more time and continue to help us do so for as long as we'd like.