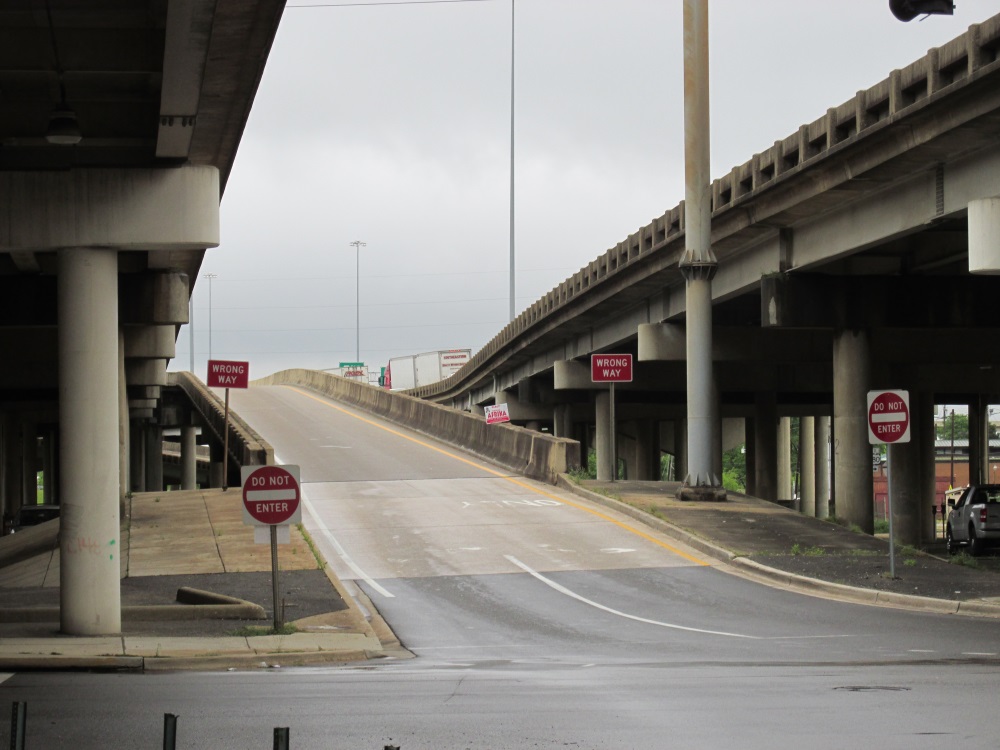 I left last night's performance by Theaster Gates at the Birmingham Museum of Art with what's become an impossible task. My plan was to write a piece about the most recent version of proposed changes for I-20/59, I-65, and 11th Avenue North. If you need a refresher (or a primer) on the issue, you may want to jump over to the piece talking about last week's meeting in Norwood. After his powerful piece and the question and answer session last night, it got me wondering about the the deafening silence throughout metro Birmingham as they assume the project isn't going to affect them. I was thinking about how much getting into downtown will change once the 22nd St. N. ramps (westbound pictured above) are gone.
Today is the posted last day for comments regarding the changes – ones that will do its part to effectively stifle burgeoning interest and investment in Norwood, Druid Hills, Fountain Heights, and the eastern edge of Smithfield. According to Nick Patterson's Weld for Birmingham cover story, Brian Davis at ALDOT isn't necessarily going to ignore those that come in later – but a lot will depend on the number of comments and their significance.
The plan derails any attempt to effectively continue expansion of the BJCC and its entertainment district. It also limits revitalization efforts in the Northside neighborhoods mentioned above. They serve an important role in renaissance currently enveloping the city center. I'd argue it's a lot easier to demonstrate a need for long sought after amenities like grocery stores and drugstores when potential developers can point to additional rooftops less than two miles away as possible customers.
Realize this project, one currently slated to take three years, will also change traffic patterns in the city center – potentially causing additional issues as you go from north to south – even as it temporarily improves the flow of traffic through the region on the Interstate. I'm thinking specifically about the 11th Ave. N. modifications. They will create what amounts to a limited access road enabling folks to pass through in cars instead of stroll along a redeveloped area benefiting the city's tax base and ensuring continued investment north of the Uptown entertainment district.
Think about how these changes will affect the morning rush hour. How about evening rush hour traffic? Now, think about that traffic as folks attempt to get to the BJCC with several events taking place at the same time?
This is the part of the metro area that's seeing record attendance at the newest ballpark in all of baseball. This is the one that epitomes the significance of the medical industry as an economic engine for the state as Viva Health plans to raise its name atop the former Regions Bank headquarters.
Perhaps it would have made sense for ALDOT officials to pay attention to the comprehensive plan process already well underway when the agency held its second public involvement hearing in July. That said, It's a lot easier for them to use the property they already control instead of attempting to move the Interstate from its current position. Imagine what happens if you're driving north on I-65 had to deal with an extended Malfunction Junction – an interchange for I-20 at Finley Blvd., one at I-22, and finally at the looming specter of implied progress known as the Northern Beltline?
It's not a pretty sight, is it? The alternative route wouldn't be much better as traffic along Carraway Blvd. will see an increase regardless and those who'd be looking to avoid that potential jumble would have to consider growing populations in Gardendale and Fultondale.
It shouldn't be left to just the residents of the city's Northside to battle this plan. So an idea came up during a neighborhood meeting last week called to determine next steps:
"Why not place signs at the end of the ramps saying, 'Did you know this ramp was going away?'"
I've had conversations with several people who didn't know the ramps were going away. They were wondering how something like this could happen. It's something you'd think state transportation officials would have considered before deciding to create more problems as a result of listening to request to look at alternatives to simply replacing the existing decking along I-20/59. That proposal wouldn't remove the frustration of an implied boundary between the central business district and the BJCC property. It wouldn't be creating this long-term morass instead of looking at a compromise that actually listens to the concerns of the entire Birmingham region.
We've got to fix our own problems – so long as Montgomery lets us. We have so much excitement currently captivating the hopes and dreams of residents who've long thought it would never happen for Birmingham. It's weird to think a proposed solution to what is necessary evil of becoming a city built primarily for cars could have a chance to slow it down.
Why not let some more folks know about the ramps that won't be there anymore (& the congestion that will result)? Go on…
André Natta is the stationmaster for bhamterminal.com.