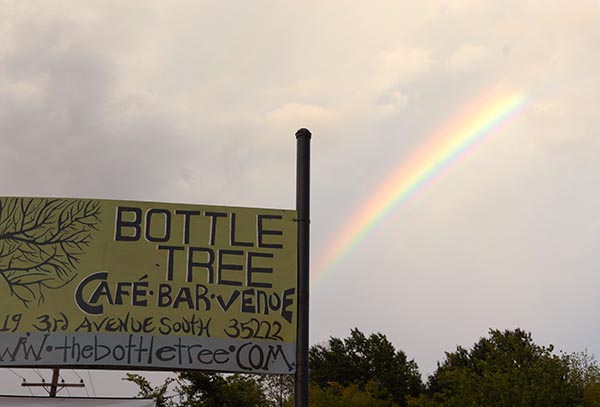 Last week I was sitting in the taproom at Good People Brewing Company talking to Madison Underwood of Weld for Birmingham about the bingo trial and the new ballpark currently underway across the street.
Let that sink in for a moment. It took a while for me to fully appreciate it.
I was sitting in a taproom that didn't exist a year ago run by a brewery that came into existence in September 2007. Madison's now writing for a hybrid news publication that came into being less than a year ago. The site for the ballpark is across the street from Railroad Park, a much different looking piece of land than it was four years ago as folks attending our first anniversary party saw from the top of the former Commerce/Protective Life headquarters located at the northern edge of "the News Bridge." The ballpark itself has been in the making in some form or another for at least ten years now.
A lot has changed in five years here in Birmingham. Every once in a while taking a step back helps you appreciate it and not miss it. And yes, I realize just how cheesy that sounds – almost as cheesy as this does to some folks nowadays (not us though).
The end of The Terminal's launch party in 2007 saw a bunch of us heading out the door to take a look at a rainbow to our east. As Bob Farley snapped the photo (the one at the beginning of this post), I remembered him and others talking about the symbolism. I laughed it off back then, but I appreciate it a great deal today.
This evening a few of us will gather at Good People, hoist a couple of pints, enjoy some pie and some coffee (courtesy of Finer Grind Coffee Roasters) and talk. Nothing too fancy (that's the plan at least), just a chance to see and thank a bunch of people who've stumbled across this site over the last five years. PieCamp Birmingham has become the quintessential event for a site focused on driving conversations about what's happening in Alabama's Magic City. It's a great chance to learn about the city's newest rainbows. It's less about pretense and more about getting a bunch of folks together talking about what keeps them working through their storms.
We're always chasing rainbows, despite our efforts to say it's not true.  It's amazing if you get a chance to see what's on the other side and if you take the time and listen.
There are rainbows that still push Birminghamians to dream big dreams for their city. They give you hope that the citizens can recognize that they don't have to always look down on themselves and their region.
There are also rainbows that have given this site more support that I thought possible at times. Businesses like The Bottletree, Urban Standard, and The Red Cat have made things easier. Folks who've chosen to contribute to the site in the past (and a few getting ready to start soon) are helpful as well.
So I'm hoping for some rain on Wednesday evening at #piecampbhm. A little sunshine too.
Why?
I'd like a reminder of what's possible, what's needed, and what it means to have started this digital space in the first place. That scene I described at the beginning of the post makes it worth while, as do all of you.
Cheers.
André Natta is the stationmaster for bhamterminal.com.