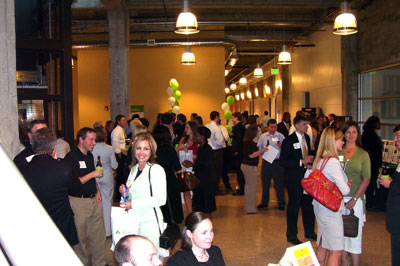 This evening, organizers have planned for approximately 1,000 people to pass through the Birmingham Museum of Art to participate in the 3rd annual YP Expo. Approximately 30 young professional organizations and many of their memberships will have the chance to interact with one another and see what everyone else is doing (or learn that an organization that you've wanted to start already exists), much in the same way that the folks pictured here at the first one held in 2007 at the Innovation Depot did.
The original idea behind the Expo was to provide a starting point on two different fronts:
the opportunity for newcomers and long time residents of metro Birmingham to learn more about the existing organizations
to give the existing organizations a chance to talk with each other and determine ways that they can work together
The question posed by the press release for this year's event is the right one, "What's next?"
Introducing young professionals to the existence of these organizations is an important first step, though it is equally as important to make our established leadership aware of the presence of these energetic people in our community. They are ambassadors to the outside world about the potential and the successes that exist in Birmingham. Connecting them to each other is essential; not just for folks attempting to pad their resume with the now necessary community outreach opportunities, but for those that want to know that when they speak of the good that is happening in Birmingham, it is not the only voice in the forest doing so.
When I recently wrote about brain drain, it was more to see if folks thought it existed (I think it's become more of a trickle myself). What happens after the sign up lists are entered into the databases and the business card swapping ends tonight is the key for those that think that the phenomenon does exist.
The offline interaction and tangibles that come from shaking hands with someone who is as passionate as you are about the future of The Magic City will encourage most to move any obstacle that stands before them. It will be interesting this year to see how many of these organizations choose to work together on projects, pooling resources and talent to help move Birmingham forward the way that they want to see it happen.
I'll unfortunately show up late tonight and leave early; heading home to play in the dirt in front of the house in advance of a trip out of town tomorrow. I'm hoping that the seeds planted tonight among Birmingham's rising class of young professionals grow pretty strong… and fast.
André Natta is the stationmaster for bhamterminal.com.
Photo: 2007 YP Expo. André Natta/bhamterminal.com